Lejog - Part 3
2020-07-20
3 Weeks solo unsupported cycling the length of the UK
Week 3: Selkirk - John O' Groats
---
This is Part 3 - Week 3 of my cycling expedition.
This week took me from the Southern Uplands south of Edinburgh, across the Forth Road Bridge to the Cairngorms and Aviemore, then further north to Inverness and the wild Scottish Highlands. Here I took a variation on the usual faster route, and instead headed north west to Durness with one prize in sight: Cape Wrath.
From here it a fast couple days with a strong headwind east to Dunnet Head (The most notherly point of mainland britain), then across to John O' Groats.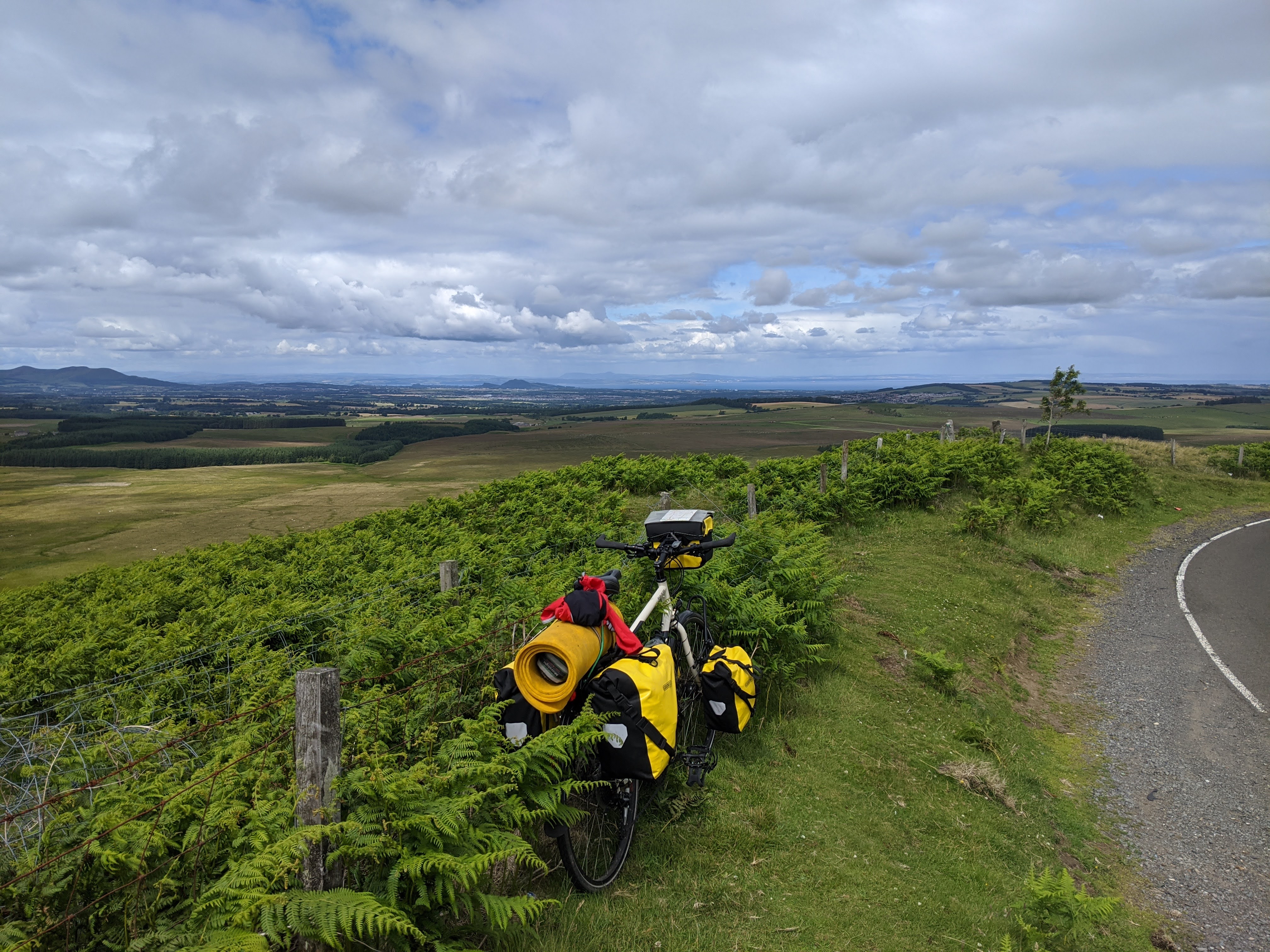 After hitting a summit and bend on the B7007 I could see this huge panoramic view around of Edinburgh and the Firth of Forth. The roads into Edinburgh were the worst I had encountered (so far) on the cycle trip, and on a few occasions the pannier clips popped off. Passing through Edinburgh itself was relatively easy, I just followed the Sustrand route to cross the Forth Road Bridge.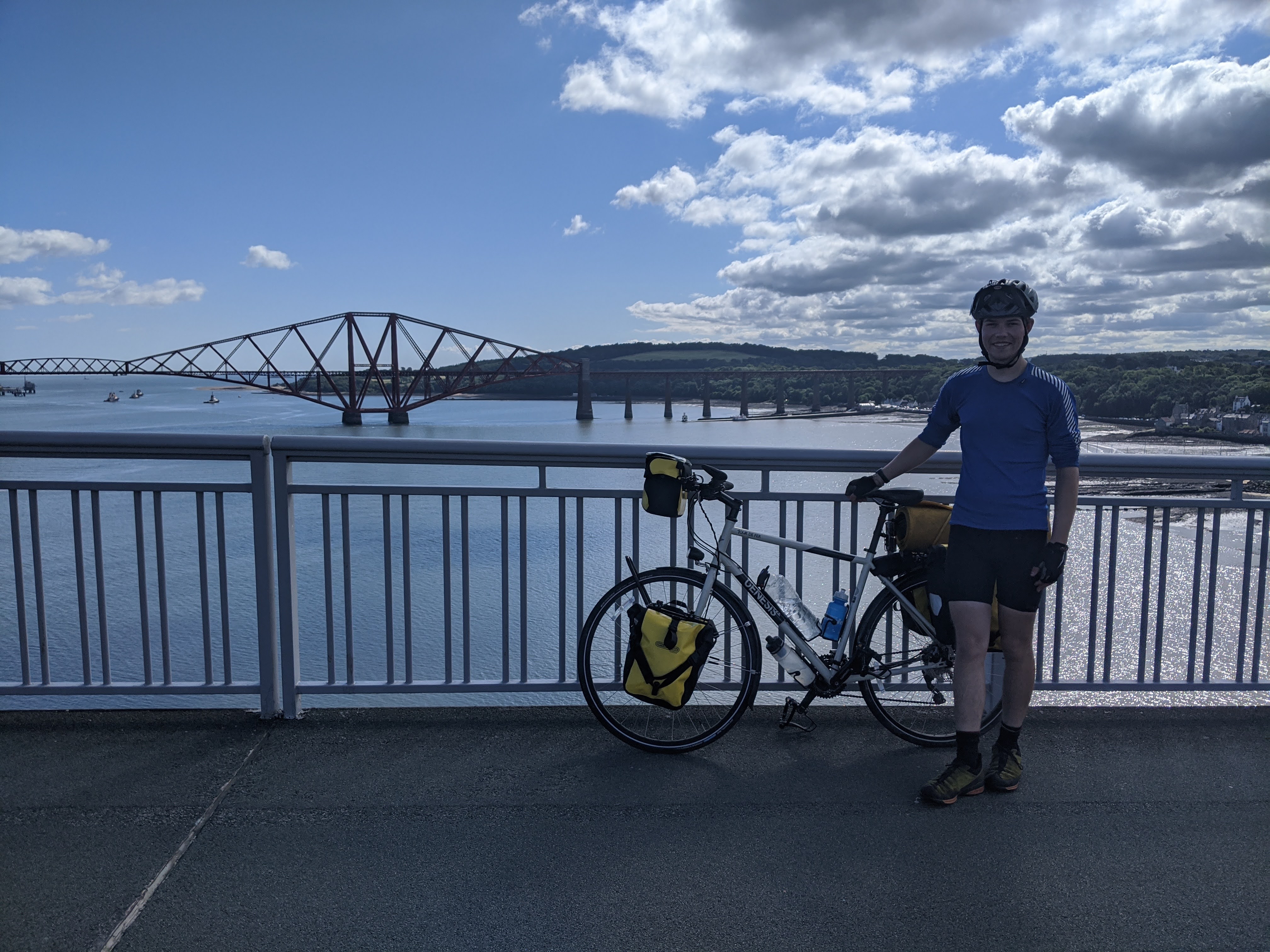 Crossing the bridge was definitely a highlight of the trip, I was only worried I'd drop dip while taking the pictures!
One long day cycling I was looking through on Google maps to find a chip shop, and one said they were open, so I cycled for longer than I was intending from Edinburgh all the way up to Dunkeld, just to find they were closed! Never mind, I found a decent place to camp anyway; albeit quite midgy.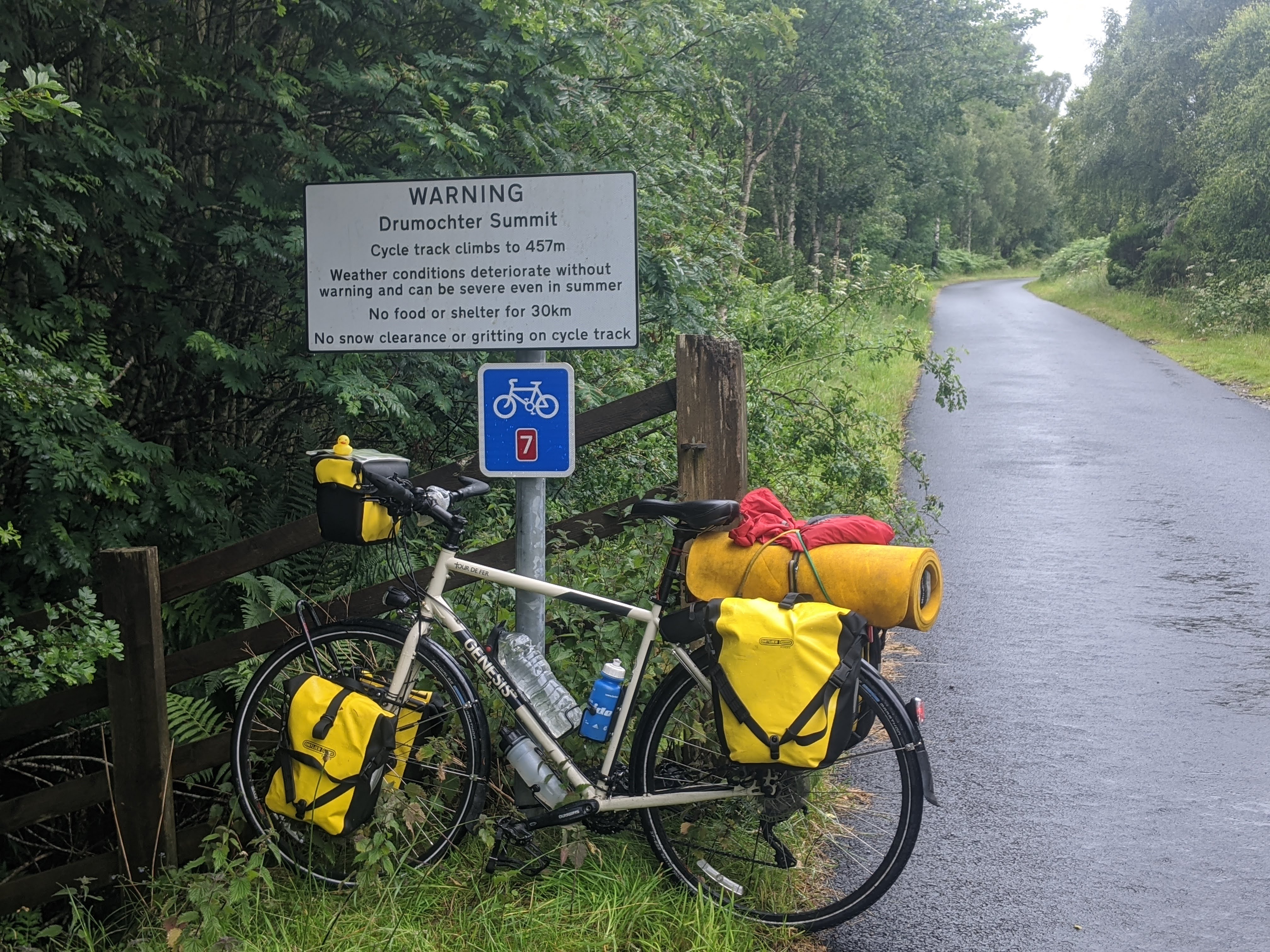 A delightful sign I passed, although these roads were some of the best on the trip! Here the old road had been converted it into a cycle path, meaning you effectively get a whole smooth wide road to yourself.
One thing that thought really cute were these miniature cattle grids, even with proper road signs.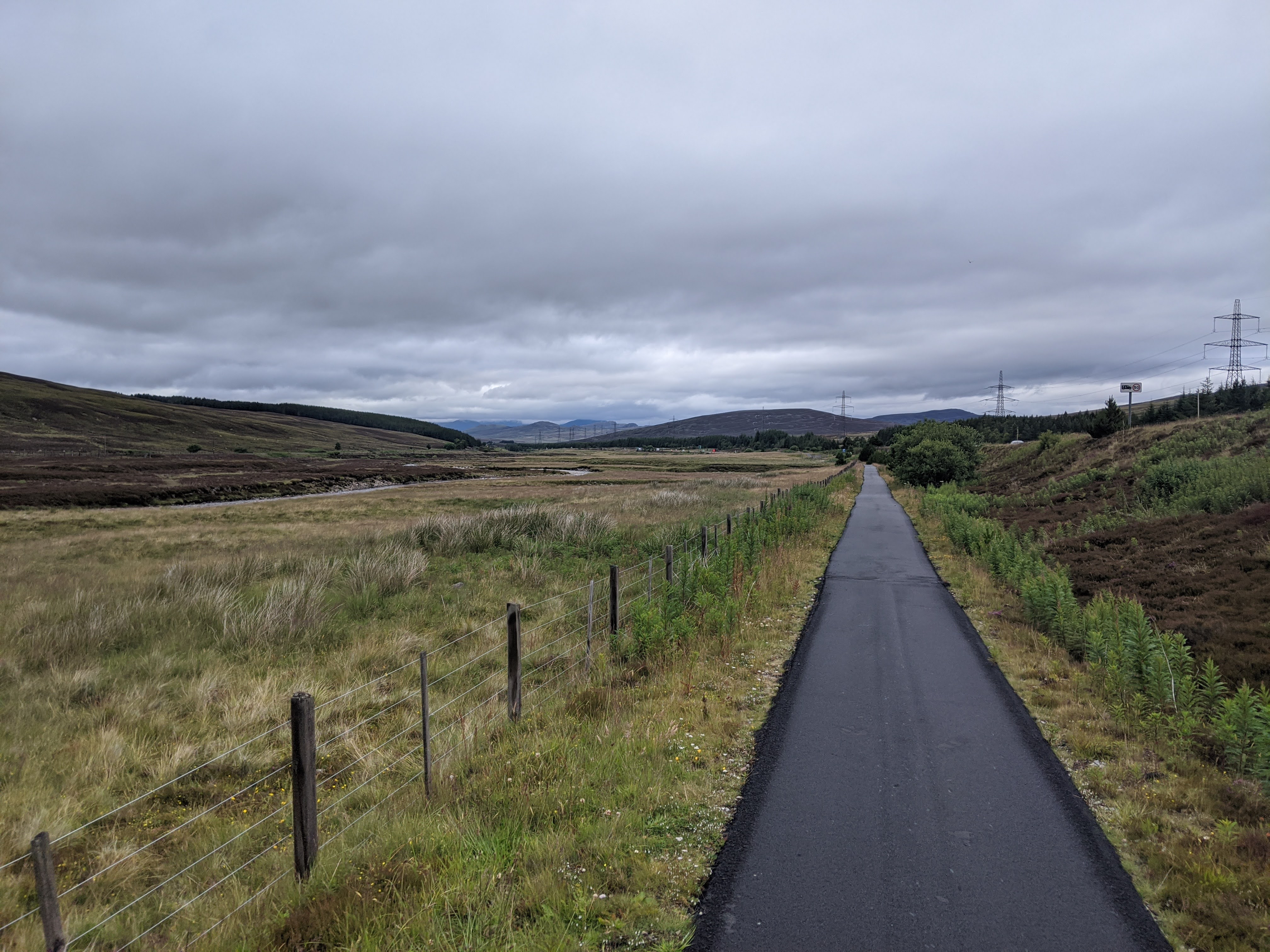 It was fast travelling on this section, freewheeling at 20mph because of the fresh smooth tarmac. You just had to be careful of the bollards on bridges. If you weren't paying attention one would definitely catch you out
A much needed Chinese at Kingusse. This place was special to me, as my dad had spent many a day here in his Uni days.
A campsite in (technically) a bog! The major advantage my little tent has is its ability to be pitched anywhere, Here the tent went down just in front of the bike.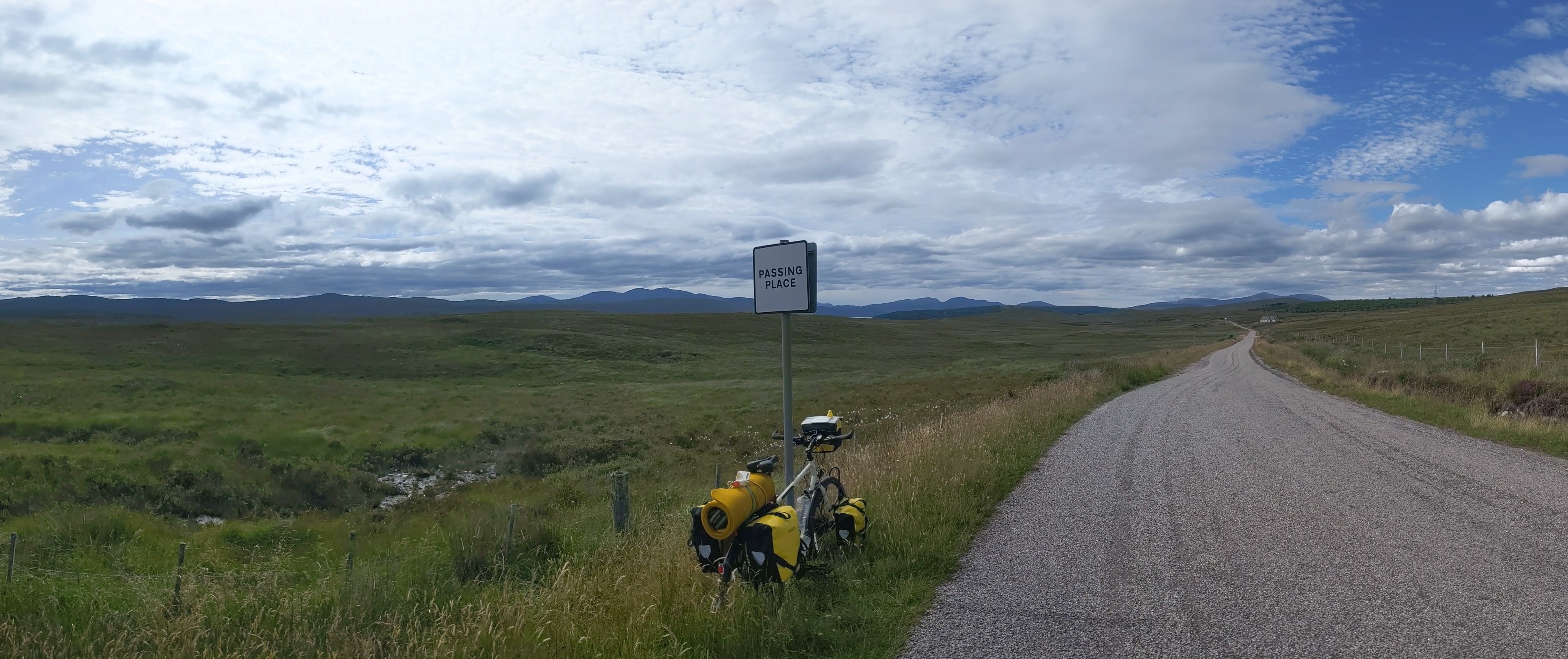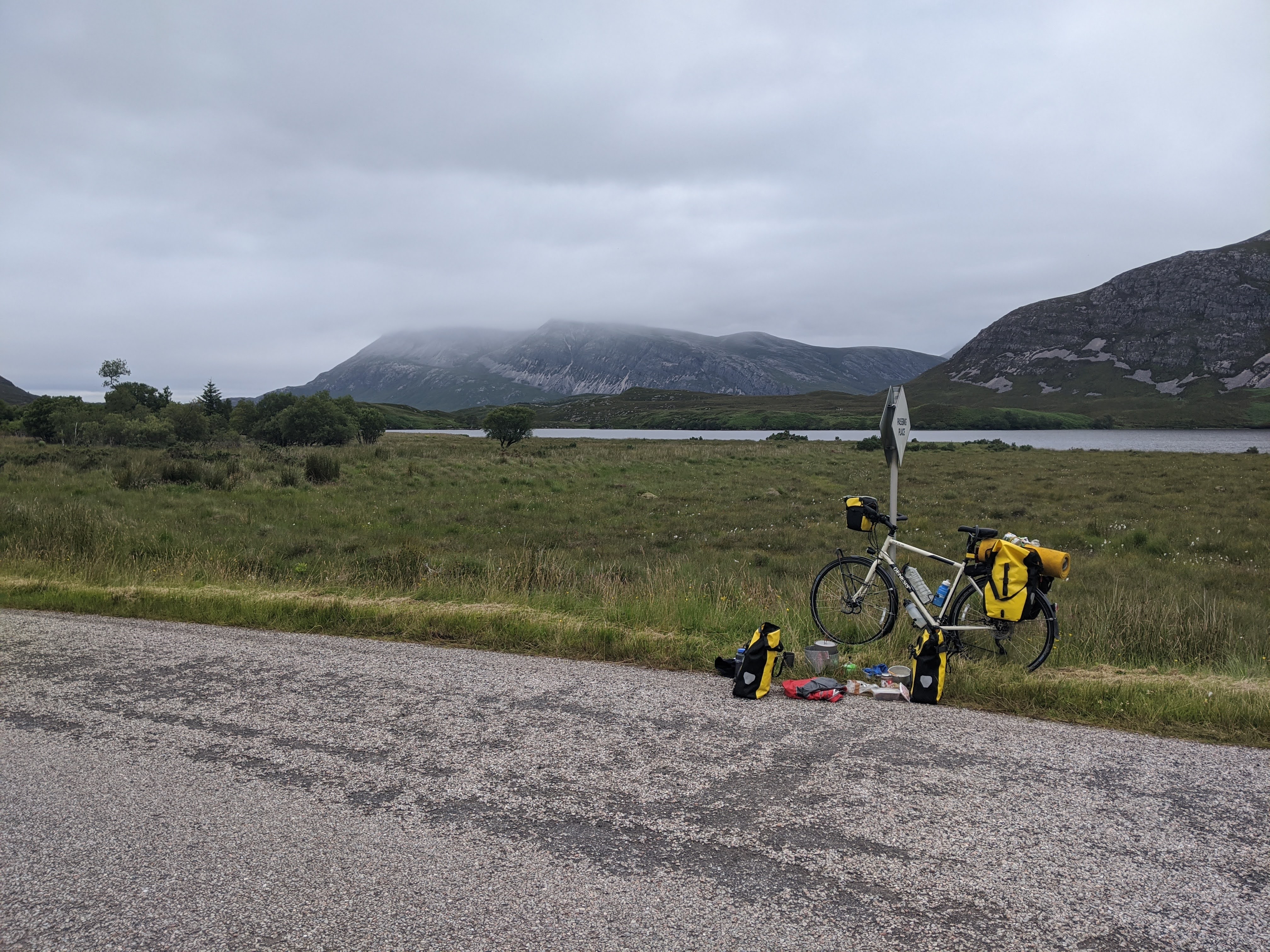 The next few days went by smoothly on small gravel roads. After Inverness I headed North West towards Durness, taking a few days to 'drop by' Cape Wrath, while I was so far north.
Cape Wrath is one of the most remote places in Scotland, and is only accessible by boat (pictured) or by foot. It is used by the military as a training live fire range.
The old potholed road is very difficult to ride on, and shook the bike so violently I broke a wheel spoke, and rattled a screw on the pannier so loose it nearly broke off!
I made to the lighthouse and back, still carrying all my camping gear! Had to do it the proper way.
More about cape wrath here.
This was the most midgy campsite. In my improvised beekeeping-esque attire there were so many hitting my jacket it sounded like rain, and in the still evening I couldn't even walk and eat without getting a face full of midgies. Why did I go to Scotland in July again !?
This was the first sign to John o' Groats I saw, and I couldn't help but get a photo. As you can see, fashion was of utmost importance on this trip.
This day was the longest distance I travelled in any one day, cycling 134.8km (83.7 miles) from just east of Durness, along the north coast to Dunnet Head.
This is the "most northerly point of mainland Britain", and I was determined to visit it. Well not only did I visit, but I also camped the night!
3 weeks after I set off from Lands End, I had reached this beautiful spot. It was only here, with John O' Groats only half a day's cycle away, that I booked my train ticket back home. If truth be told, I was tempted to cycle back home! However my phone battery was close to dying, and I had no way to charge it.
The End! (almost)
John O' Groats was only a short cycle from Dunnet Head, so I arrived in the early afternoon. By this point my phone was running desperately low, and I was concious that I needed the charge to get my train tickets.
Collection all the change collected in my panniers, I tried to call home using a telephone box (why not do it old-school?), only to find out that it was for emergency calls only.
While I was up here I went to the most north easterly point as well, Duncansby Head, just to get another corner of Britain in.
From Duncansby Head, I headed south down to Wick where I found a corner to camp in, ready for the 06:18 am train south the next morning.